What is the next-generation strategy "Thailand Plus Alpha"?
In order to avoid the risks (political changes and wages) that have been concentrated in China in the past, the China Plus One strategy is to have production bases outside China and make diversified investments.
Type Laswan means that labor-intensive processes (with labor costs) are left in the neighboring countries while leaving the production base in Thailand. Several years ago, attention was focused on Cambodia, Laos, and Myanmar (CLM). It was.
We are now moving to a new strategy from "Type Las One", which was the center of expectation as a manufacturing base. That is "Type Las Alpha" = T + CML + P.
What is Type Las Alpha "T + CLM + P"?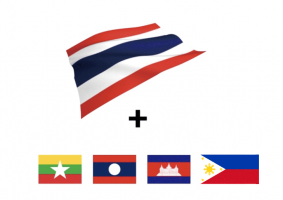 Transferring some labor-intensive production processes from Thailand to neighboring countries in the process of optimizing production bases by reducing labor costs and reorganizing the logistics network through regional division of labor is the so-called " Thailand Plus one ".
At present, the following countries are also attracting attention as promising future consumers.
Thailand
Cambodia
Laos
Myanmar
Phillipines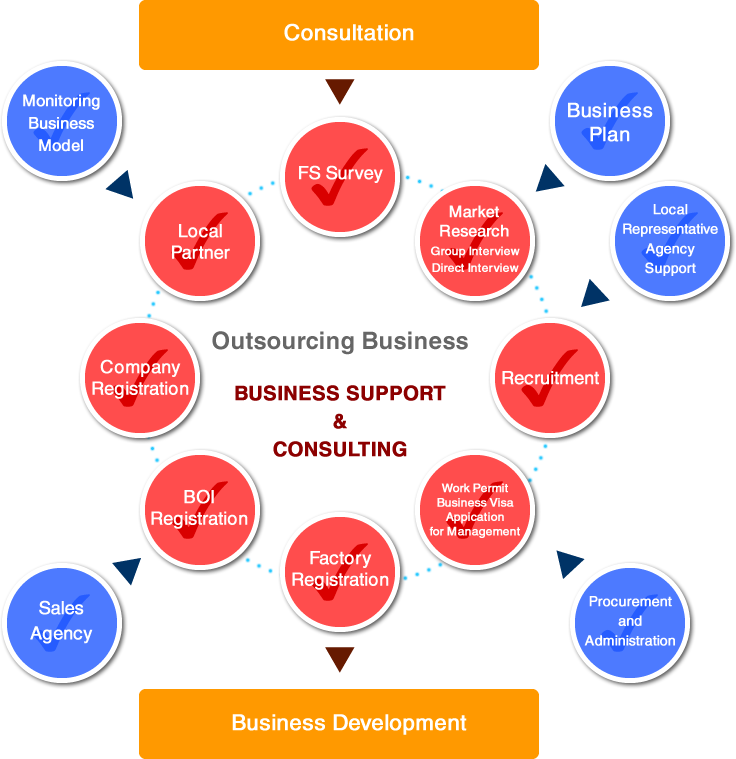 Now is the era of outsourcing.
Our basic business is to help customers' business through "creating a business structure" that is focused from marketing research.
Specific roles include marketing plan creation, cooperation for sales promotion based on data, advertising strategy and implementation with abundant media tools, supply source surveys to Japanese and local companies, negotiations with suppliers, between foreign countries To act as an intermediary for business transactions with.
We provide a variety of services that are indispensable for working smoothly with our customers.
Total support for overseas expansion
Formulate overseas expansion strategy and clarify the purpose of entry
Preparation for commercialization
We mainly support manufacturers who are expanding and expanding into Thailand.
We handle special cases other than normal BOI incentive companies.
Thailand Board of Investment (BOI) Encouragement (Trading Company)
In addition to the manufacturing industry (food, steel, chemical processing industry), we have an IPO (International Procurement Office) encouraging approval track record for international procurement other than the manufacturing industry.
Proxy application to the Ministry of Commerce regarding the Foreign Business Act (Manufacturing)
Although it is 100% Japanese capital, it has received a trade license from the Thai Ministry of Commerce on behalf of the company without a capital increase of more than 100 million baht.
Representative office (distribution)
A representative office was established at an early stage for the purpose of investigating various information in response to customer requests.
Real estate purchase (general companies, individual investors)
There is a track record of agency business from land purchase to general real estate purchase of Thai Industrial Park Public Corporation.
Consulting support for existing companies
Target: Japan, Thailand
Consulting case: single consulting, unit consulting
In the case of unit consulting, we have a team of several specialized field project teams to solve client issues for client projects.
Although it depends on the target company size, after organizing the project team and actually visiting the site and listening to the issues in detail, setting the hypothesis that causes the issues, actually conducting interviews and collecting information, etc. After conducting the analysis work, we will formulate a solution and propose business improvement proposals to clients.